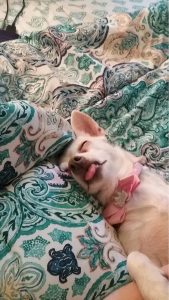 Written by Kimberly I. & Wendy B., loving adopters
Luna was a very shy dog when we first brought her home, but she quickly established herself as a member of our family! She likes to roll on her back for belly rubs or to be cradled in your arms, she's very much a cuddler! Sometimes when she falls asleep or if she's relaxed, her tongue sticks out and it's a very funny sight. We've gotten some toys for her, but she seems to prefer the squeaky stuffed toys the best. Luna's favorite dog to play with is Buffy, our other girl chihuahua. They jump and roll around and sometimes run around the house! She is a very laid back dog, but she often gets very excited when we go on walks. We've taken her on walks around t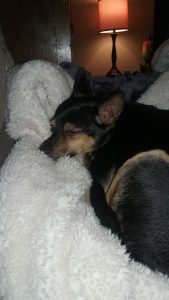 he neighborhood and at the local dog park, and she is very good with her leash and harness.
Gatsby is a very loving dog. He loves to lay in everyone's lap and cuddle or be held in people's arms. He has a stuffed hedgehog toy that he loves and sometimes he falls asleep with it. He'll sit with it on the floor, couch, or bed and continuously squeak it too. Gatsby's favorite thing to do is go for walks. He gets excited when we go for a walk around the neighborhood or at the dog park and he's very vocal about it. He is very good with his leash and harness. He wasn't so sure about our cats at first, we think that he hadn't seen one before, but now he plays with them when they want to play (and sometimes when they do want to play!). He is a very friendly dog, even to new people.
Luna and Gatsby are very much a part of our family and we thank you for allowing us to bring them into our lives!