There are a number of ways to say you care and donate to the animals at Butte Humane Society. We make it easy to choose the way that works for you.
If you have any questions regarding a donation please email our Gift Processor Lisa Higbee at lisahigbee@buttehumane.org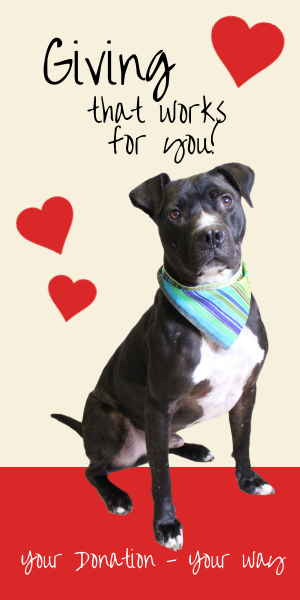 Money
You can make a one-time donation  credit card by clicking here. You can set up a recurring donation plan by clicking here. Or, you can pay by check payable to Butte Humane Society, mail to
Butte Humane Society – Donation
13391 Garner Ln
Chico, CA 95973.
Give as you Shop
Donate while shopping at the grocery or department store or gas station, or when you shop online.
"Leave a Legacy" Donations
Make a donation through a Bequest, Retirement Account, Charitable Remainder Trust, Charitable Lead Trust, Life Insurance, or Life Estate Gift. We are partnered with Free Will which provides a quick and easy way to create a Will.
Sellable Goods with "Waggin' Trader"
Donate sellable goods we can sell on websites like eBay. See a list of goods here.
Vehicle Donation
Cars, Boats, RV's, Farm Equipment, and other motorized vehicles can be a great way to donate to help the animals.
IRA – Retirement Account
Transfer up to $100,000 a year directly from your IRA account. Please contact your financial planner.
Wish List
We always need smaller items such as cleaning supplies, paper goods, dog and cat treats, and foods. See the list of current items here.
Donor-Advised Fund (FAD) through Fidelity
A donor-advised fund is like a charitable investment account, for the sole purpose of supporting charitable organizations you care about. Easily contribute to a wide range of assets. Maximizes potential tax benefits. Supports tax-free growth. Simplifies record keeping and organization. Supports legacy planning.