Getting Started

We need you!  Thank you for your interest in becoming a BHS volunteer.  It is no secret that volunteering is a rewarding and uplifting experience.  
Seven days a week, 365 days a year, our dogs need to be walked and our cats need love and attention.  As a volunteer you are helping our animals tremendously by playing with them, socializing them, and caring for them to get them ready for their forever homes.
If you would like to volunteer please follow the steps below:
Step 1:  Fill out the Volunteer Application.
Step 2:  Sign up for a volunteer orientation – after submitting the application, you will receive an email with information on how to sign up for the orientation and to purchase your Volunteer Shirt ($15).
Step 3: Shadow Shift–After orientation, you will attend a shadow shift in which you will gain a little more hands on experience.  
Step 4: Volunteer and HAVE FUN!  After attending the shadow shift you are now certified to help us!
---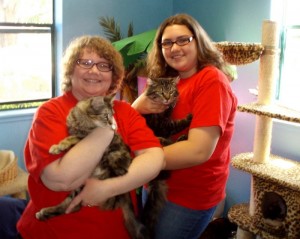 Volunteer Q&A's
What types of volunteer opportunities are available at BHS?
From dogs to cats, to laundry and dishes – we offer a variety of opportunities at BHS which help keep everything running smoothly.  Our shelter runs 365 days of the year and we always need help keeping it up!  You can help by walking and socializing our dogs and helping with other types of enrichment.  You can also play with and socialize our cuddly kitties in addition to cleaning their areas.  Let's not forget the nitty gritty jobs of laundry, dishes, or gardening and the fun, fast paced offsite jobs at mobile adoption sites or special events.  We have something for everyone!  If you are interested in an Internship, please visit our Job & Internship page to find out more!
What is the minimum age to volunteer?
For the safety of our "two legged little friends", and due to liability we require all volunteers to be 12 years and older.
Volunteers who are 16-17 years old must have their parent/guardian sign the release form found in the online orientation training.
Volunteers who are 12-15 years old, we welcome your help.  We have a lot of specific tasks that are perfect for young people to help out with such as performing enrichment projects, improving kennel presentation, folding laundry, socializing cats, grooming the pets, and more.  For liability reasons, an adult must be present at all times the 12-15 year old is on site.  That adult must also be a volunteer and must go through the orientation process with the youth. If you have any questions, please contact the volunteer coordinator at volunteer@buttehumane.org.
What can I do if I am under 12 years old?
There are plenty of other ways you can help BHS outside of the shelter:
*Wish List – BHS is always in need of supplies, you can start your own wish list drive for BHS with your school, friends, or community. Please find our wish list here.
*Make Posters – Make a poster of an animal waiting for a home at BHS.  Come in, meet some of the animals and ask which ones need the most help finding their forever homes.  Make a poster for them and spread the word about how they need homes. BHS always needs help with promotions!  You can help make super colorful signs for our upcoming special events.  
*Make Snuggly Blankets – Our pets like to snuggle too – so how about helping make them something to snuggle with.  These super easy tie-blankets are great for our animals!
Is there a cost to volunteer?
All volunteers must pay a one-time fee of $15 which is simply to cover the cost of your Butte Humane Society volunteer t-shirt.
Is there a time commitment?
We know everyone has busy schedules, but we require only a six hour minimum of volunteer service a month to stay active in the program.
What are the volunteer hours?
Volunteer hours for working with dogs and cats are from 11:00am to 6:00pm every day; even weekends! Volunteers who help out in the laundry room can come as early as 7:00am and end at 6:00pm every day. Holiday hours are limited.
How can my group volunteer?
We have special projects set up for groups – please email our Volunteer Coordinator for further information – volunteer@buttehumane.org.  Please include an ideal date, time, and general area of work you would like to help out in.
Can I volunteer to satisfy required community service hours?
At this time we do not offer volunteer opportunities to fulfill court-ordered community service hours. Please check with the staff at City of Chico Animal Services for opportunities to do so through their organization. For classroom and other community service requirements, please email volunteer@buttehumane.org.
I have volunteered with another rescue organization; do I still need to go through the BHS Volunteer Process?
Yes.  Every rescue is different with different protocols and procedures and it is imperative that all of our volunteers know how Butte Humane Society handles our animals for their safety and yours. Plus it is fun – you will get to know other like-minded volunteers just like yourself.
I have volunteered with BHS in the past, do I still need to go through the Volunteer Process?
Yes.  If it has been more than six months since you last volunteered, you will need to come back through the orientation, as oftentimes policies and procedures have changed.  Should you have any questions, please email volunteer@buttehumane.org.
Additional Questions?
Contact our Volunteer Coordinator at volunteer@buttehumane.org.