Thank you for adopting from Butte Humane Society!
Choosing to adopt an animal from Butte Humane Society (BHS) is choosing to save lives, help reduce pet overpopulation, and most of all embrace happiness for yourself and your new pet.
Please contact us to schedule an appointment or visit us during our walk-in hours, Tuesday – Saturday from 12 pm – 4 pm.
Our adoption centers have many wonderful animals, all breeds big and small, who are capable of bonding with your family. Our adoptable animals are grateful to be given another chance to be loyal adoring family companions. When you adopt from BHS, you not only gain a loving new friend, you also free up room for another homeless animal to become available for adoption.
BHS adoption counselors are here to help you find your perfect furry friend. Unlike "pass/fail" adoption applications, we strive to match people and animals through education and discovery. We accomplish this by conversation to create an effective, pleasant adoption experience – and most importantly, to make lasting matches.
By cross-referencing your needs with our adoptable pet's existing personality profiles, we are able to help you find the right companion animal for your unique lifestyle and preferences.
If you are interested in adopting – learn what to expect during the process.
---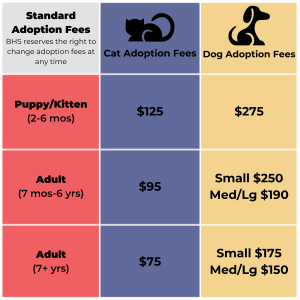 Adoptions include over $500 worth of products and services:
Vaccinations: Up-to-date core vaccinations and preventative care as follows:

Dogs: Bordetella, Da2PPl, and Rabies (if over 3 months old) vaccinations; de-wormer, flea prevention/heartworm prevention, heartworm test (if 6 months and older)
Cats: FVRCP, Rabies (if over 3 months old) vaccinations; de-wormer, flea prevention, FeLV or FeLV/FIV test

Spay or neuter
Vet Exam: Free examination by a participating local veterinarian after adoption.
Microchip
Temperament Assessment: Personalized temperament assessment and recent health check
Insurance: $15 off the Lifetime Membership Plan from 24 Pet Watch Insurance
Carrier: a carrier is required to take your newly adopted cat home, if you do not have one, cardboard carriers are available to purchase for $5
Behavior Consultation: It doesn't stop when you adopt – receive behavior consultation with our staff as needed.
Butte Humane Society accepts cash and major credit/debit cards; we do not accept checks for adoption fees.
Click here to view adoptable Cats 
Click here to view Adoptable Dogs