Have you ever been curious about fostering animals but were unsure of whether or not it was for you? Check out the information below and think about if fostering animals might be a feasible way for you to help homeless animals right here in your own community.
Why Would An Animal Need To Be Fostered?
Puppies and Kittens
There are many reasons an animal may need to go into foster. The most common reason is that they are too young to be spayed or neutered and they need a comfortable place to receive love and socialization while they wait and grow.
Sick or Injured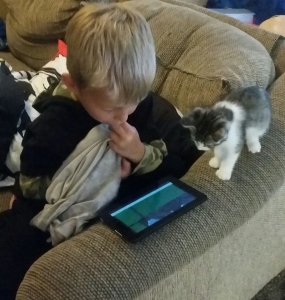 Sometimes animals may need to go into foster while they recover from a medical treatment, an injury, or an illness. They may need to be given medications and monitored for changes in health.
Socialization
Sometimes we intake animals who missed out on socialization during the crucial early months of life and who are a little socially awkward, fearful, or both. They need somebody patient who can help get them on the right path to being the ideal pet.
Take a Break
While some of our dogs and cats get adopted right away, others, through no fault of their own, get passed over time and time again. After being in the shelter for weeks or months, they can get pretty bummed. We do what we can to get them into a home environment for a day, a week, a month…however long the foster is willing and able to offer to house them. It helps the pets remember what a home is like.
Fospice
No animal deserves to spend its last days in a shelter. "Fospice" is a portmanteau of foster and hospice.  When an elderly or terminally ill animal comes in but isn't expected to make it more than a few months, our amazingly compassionate fosters open their arms, homes, and hearts to give them as much comfort as possible to offer the best quality of life care until the end.
Contagious
Every now and then we will get a pet that has been exposed to a contagious disease such as calicivirus. Once a home has housed a cat with calicivirus, no other cats can be fostered in the home unless they have the virus as well. We will not send any infected animal into a home that wasn't already contaminated. However, if you thought that having a contaminated house would prevent you from fostering at all, give us a call. It's not often that we have contagious cases, but it would help a lot if we knew we had a foster home for the animal.
What Types of Animals Need to Be Fostered?
All types of animals need to be fostered. Right now BHS only cares for dogs, cats, puppies, and kittens. Most animals that go into foster are puppies and kittens waiting to be old or large enough to be spayed or neutered. Many are small and timid dogs who are too nervous to be in a kennel and are not thriving as well as other dogs. Sometimes there are mothers with her litters.
Who Can be a Foster for BHS?
Students, homemakers, full time, and part time workers…any responsible adult with a little extra space and a whole lot of love can be a foster. Fostering does require giving the animals a fair amount of attention, so somebody who has the ability to share 2-4 hours a day with the animals, and who has landlord/owner approval, is ideal. Being able to transport the foster animals is a must as well.
Fostering isn't for everybody, so don't feel obligated to try; that being said, we support our fosters to the best of our abilities.
What Would be Expected of Me?
Fosters are expected to care for one or more animals for anywhere between a week and a few months. It all depends on the situation, but a week and a half is average. We expect our fosters to be able to bring the animals to our clinic on weekdays to receive any vaccinations or examinations.
When an animal is scheduled for surgery, we need fosters to be able to drop them off before 8:00am on a weekday and, if they are going back into foster afterward, to be able to pick them up around 5:45pm of the same day.
We expect our fosters to be able to administer medications (no needles) in accordance to their prescriptions and to keep record of dosage.
To learn more about what is expected, please visit our FAQ page.
Getting Started
If you're thinking that fostering is for you, click here to fill out the online foster application. Once it has been reviewed, you will be contacted by the foster coordinator via email to schedule an orientation. At the hour long orientation you will sit down with the coordinator to discuss more details and expectations as well as have any questions answered.


Have questions? Contact Shelby Waugh, Interim Foster Coordinator, at 530.343.7917 x 101 or by email at volunteer@buttehumane.org.