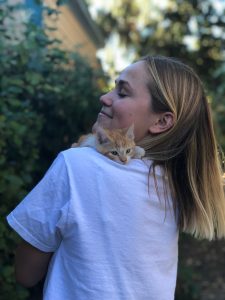 You don't have to adopt to be an animal's hero- fosters play a critical role in helping our shelter pets find their forever homes. A foster is someone who provides a temporary home environment for a shelter pet while Butte Humane Society provides all of the necessary supplies. By offering your time, energy and home to an animal in need, you prepare the animal for adoption into a permanent home and help prevent overcrowding in our shelter. 
Fostering through Butte Humane Society allows us to:
Increase adoptions by better preparing animals to become beloved family members.

Accept even more animals into our shelter.

Reduce the amount of time an animal stays in our shelter.
---
Who Can be a Foster for BHS?
Anyone! Students, families, full time and part time workers…any responsible adult with a little extra space and a whole lot of love can be a foster. Experience isn't necessary; we do our best to set each foster parent up for success and match you with a pet at your skill level.
---
Types of Shelter Animals that need Fosters
There are many reasons an animal may need to go into foster.
Puppies and kittens who are too young to be spayed or neutered need a comfortable place to receive love and socialization while they wait and grow.
Some shelter animals have medical conditions or illnesses and need a foster to monitor them while they receive treatment and recover.
The shelter can be a stressful environment and while most of our dogs and cats get adopted right away, others, through no fault of their own, have to wait a little longer to find their perfect match and need a foster to help them get a break from the shelter and help get them on the right path to being the ideal pet.
Fospice
No animal deserves to spend its last days in a shelter. When an elderly or terminally ill animal comes in but isn't expected to make it more than a few months, our amazingly compassionate fosters open their arms, homes, and hearts to give them as much comfort as possible to offer the best quality of life care until the end.
---
What Would be Expected of Me?
Fosters are expected to care for one or more animals for anywhere between a week and a few months depending on the needs of the pet. Our fosters need to be able to bring in pets to our clinic during the week to receive routine vaccinations, preventatives, and exams as needed. We try to accommodate your schedule when we can.
When an animal is scheduled for surgery, fosters drop them off between 7:00 – 7:30am on a weekday and, if they are going back into foster afterward, to be able to pick them up between 5:00-5:30pm of the same day.
Fosters must be able to administer medications (if any-no needles!) in accordance with their prescriptions and to keep a record of dosage. More advanced medical skills may be required for foster pets with more severe conditions and we would look for a foster who is able to be trained or already has experience with that.
All foster supplies are provided including food, litter, litterboxes,and potty pads if needed. Of course if you'd like to buy any special treats or toys, feel free!
To learn more about what is expected, please visit our FAQ page.
Getting Started
If you think that fostering is for you,
 fill out the online foster application below!
 Have questions? Contact us at corinegrundy@buttehumane.org! 
---
Short-term Foster Opportunities for BHS Volunteers
Experienced BHS volunteers are able to partake in a couple of exciting programs that give our longer term shelter animals a much needed break from the kennels. Our staff will ensure that the volunteers interested are fully prepared to handle any situations that might arise. We also like to ensure that the dog and the volunteer are a good match for each other to ensure the happiest outings.
Dogs must always remain on leash when in any place that is not a private, fenced-in yard. This means no dog park. Any swimming in creeks or ponds must be done according to park or property owner's rules.
Dog On the Go (D.O.G.)
Established BHS volunteers get to take approved dogs to the park, to the creek, to a coffee shop, or just taking them home to let them enjoy a soft couch and some peace and quiet.
Bedtime Foster
When one day with a dog just isn't enough, let's make it a slumber party! What dog person doesn't love snuggling up with a pup? Your couch, bed, or floor is a retreat for a dog who has been in our shelter for days, weeks, or months. We can truly call bedtime foster a win-win situation.
If you would like to participate in these fun opportunities, check out the Volunteer page to get started.
---