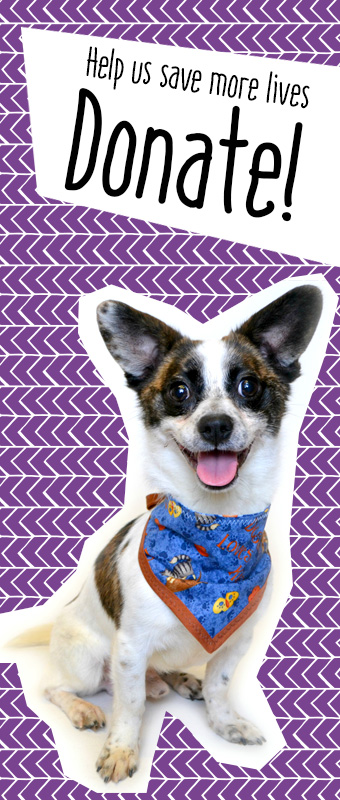 There is always so much to do at a shelter! Thanks to dedicated staff and volunteers, we are able to help hundreds of pets every year. We truly rely on our community to help us help them; here are a few suggestions.
Enjoy and have FUN!
1. Adopt the Right Pet
Before you adopt, learn about the process and what to expect when adopting a pet. You'll be much less likely to become frustrated and return your new pet if you understand the challenges and rewards of adopting a pet beforehand.
2. Make Our Animals Wishes Come True
We always need food, toys, and other supplies. Check our wish list to find out what's in short supply.
3. Volunteer
Even if you can't adopt a pet just now, you can help make life better for homeless animals by volunteering with your local shelter or rescue organization. Do you have experience as a carpenter or electrician? Are you a marketing or dog-walking whiz? All of these skills are valuable!
4. Foster
In many cases, fostering an animal outside of a kennel atmosphere is necessary for their optimum health and care. If you have a little time and room in your home to help get an animal back on it's paws. Fostering is a great way to help animals in need and to keep animals out of the shelter. 

5. Be a Responsible Pet Owner
Make the jobs of shelters and rescues easier: Outfit your cats and dogs with collars and proper ID (a microchip and ID tags) at all times. As soon as you bring them into your family, have all of your pets spayed or neutered. Keep your cats indoors, where you can keep them safe (though it's great to take them on walks if they are comfortable on a harness and leash), and keep dogs on leashes when off your property.
6. Be an Ambassador for animals
If you see an animal that needs help, call the local authorities. If you see an animal who is not neutered or spayed, tell them about our Veterinary Clinic and help them understand the importance of spay and neuter. If you hear a family about to get an animal, tell them about us and other shelters and the importance of adopting and not "shopping" for an animal.
7. Help us make positive changes
If you see or hear anything about Butte Humane Society that concerns you, please reach out to us at info@buttehumane.org or call 530.343.7917.