YOU GAVE CHARLIE A REASON TO SMILE
Sweet little Charlie was suffering from severe dental disease, which is a common problem for companion pets as they age, especially small breed dogs.  He even had pieces of grass, hair, and carpet stuck in the tartar on his teeth. If this wasn't enough, he had also developed a sinus infection due to a decayed tooth root.  It was hard to believe his tail was still wagging!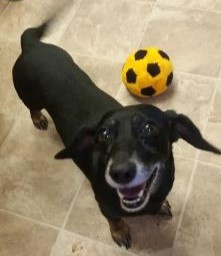 Imagine meeting a sweet, friendly and well-behaved 6-year-old dachshund mix like Charlie.  He is a perfect match for your family, and you are ready to adopt him except for one thing—he has serious dental issues that need to be addressed immediately, and this will be very expensive. Plaque and debris accumulate in an animal's mouth and harden into tartar, which can lead to periodontal disease, infections, and painful decayed teeth.
Thanks to your generous donations to the Dorothy N. Johnson Second Chance Fund, Charlie was able to get the help he needed so that he could find his forever home.  He received a deep cleaning, 6 teeth were extracted, and his infection was treated with antibiotics and pain medication.  With a clean, pain-free mouth, Charlie is smiling more than ever!
When a dog like Charlie needs an expensive medical treatment, they are often overlooked, despite the fact they are highly adoptable.  It was estimated that Charlie's dental work would have cost about $1000, which is a deal breaker to many potential adopters.  Now there is nothing holding him back from finding his forever home. Come meet Charlie and see his beautiful smile today!
Please continue to support animals like Charlie by contributing to the BHS Dorothy N. Johnson Second Chance Fund.