Marc began volunteering in September of this year and quickly became a familiar face at the facility. Marc came to walk dogs just about every day the past couple of months and has been such a huge help! Marc loved volunteering with our animals so much he decided to seek employment in the adoptions department and continues to assist in any way he can. We are excited to have Marc here at BHS and look forward to seeing his smiling face for years to come!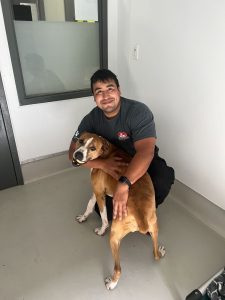 Why did you get involved with volunteering at BHS? 
I love spending time with animals and I am also hoping to go to UC Davis to become a veterinarian in the future so I wanted to get some more experience to be prepared for when the time comes.
What is your favorite part of volunteering at BHS? 
I love walking the dogs. I met Athena on my first day of training and she has been my favorite since. I have almost walked every dog here at the shelter at this point and am excited to see when they get adopted.
What is your favorite area to volunteer in?
I like spending time with the dogs, whether it's to play fetch in the play yards or just socializing with them in their kennels. I spend a lot of time here at BHS, so much so that I have been able to learn the behaviors of most of the dogs and have been able to help the staff when they don't have as much time to take the dogs out.
Do you have any animals of your own?
Yes, I have two rescue animals. One cat I adopted in 2018 and then a dog in 2019. They have a mutual respect in our home and I love them to death.