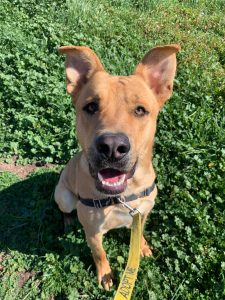 Meet Bingo!
B I N G O! We here on the adoptions team cannot help but smile when we are with Bingo! He is an active Shepherd mix who will thrive in a home who has time to play & go for summer adventures! He doesn't quite comprehend his size and will lean into you for a cuddle and some affection.
Incredibly playful and toy motivated, we know that Bingo will make someone extremely happy. Please consider giving the big guy with a big heart a chance, we promise with a little commitment and a lot of love you'll be happy you gave Bingo a chance at a new life. Children over the age of 16 and a pet-free home are an ideal fit for Bingo.
If you are interested to know more about Bingo, give our Adoption Center a call today at
530-343-7917 x105 or fill out an adoption application online!
---
If you would like to adopt a sweet dog, submit an adoption application and call the Dog Adoption Center today (530) 343-7917 x 105