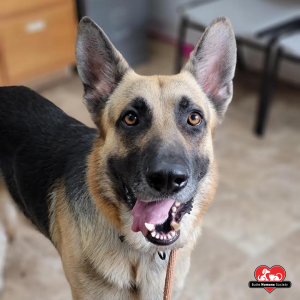 Meet Theodore!
Theo is a beautiful extra large German Shepherd who came to the shelter as a stray. He began his journey with us as fearful and distrusting. Staff allowed Theo to move at his pace with lots of positive encouragement and patience. He was vetted by our clinic and found to have a urinary tract infection which was easily treated with a change in diet and meds. 
Since then, Theo has blossomed into a goofy and 'talkative' fellow, while he's still cautious with new people and experiences, there's nothing a few tasty treats and a little time won't do to win over this giant. 
Theo will do best in a single adult household where trust and friendship can be built. An area free of foot traffic or a large backyard will be ideal for his home environment and someone comfortable with his size and strength or previous experience with large German Shepherds will benefit Theodore and his forever home

Interested in adopting me? Apply for me today!
---
If you would like to adopt a sweet dog, submit an adoption application and call the Dog Adoption Center today (530) 343-7917 x 105