Meet Mama Gretta, our last North Complex Fire burn survivor in need of a home!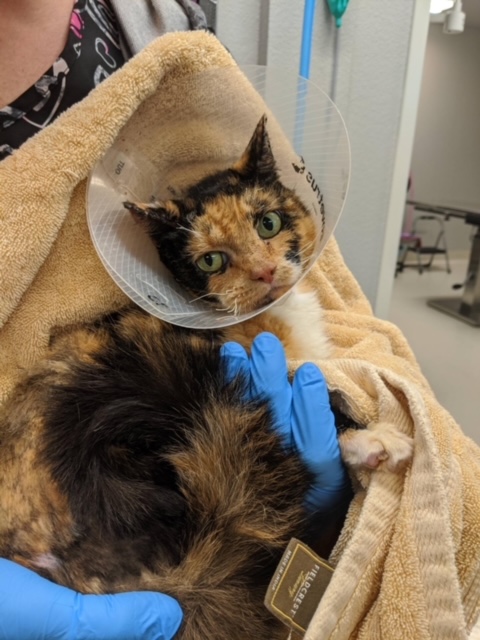 Breed
Longhair Mix
Age
5 Years
Gender

Female

 
Size

Average

 
Color

Calico

Spayed/Neutered
 
Declawed

No

 
Housetrained

Unknown

 
Site

Butte Humane Society 

 
Location

Adoptable Cats

Intake Date
2/9/2021
Mama Gretta and is an adorable 5-year-old brown tortoiseshell gal. She's a survivor of the North Complex/Bear Fires from 2020, and is our last fire survivor in need of a home!
Mama was rescued as a stray, so she's hesitant to open up right away. She'll like to observe her new family from afar at first, but once she builds trust with you, she'll show you her sweet and silly side!
Mama Gretta will need a loving, patient, and understanding home that can allow her to adjust at her own pace and a family that can provide her with space while she warms up to her new environment.
Mama Gretta would do best in a household with no other pets so that she can be the star of the show, and would prefer a smaller, quiet home. Since she's still shy, she's currently in foster care to help her relax from the stressful shelter environment.
Due to injuries that she has healed from because of the fire, she'll need to be an indoor-only cat for life. Her adoption fee is also sponsored, meaning there is no up-front cost for adopting her!
If you are interested to know more about Mama Gretta, give the Cat Adoption Center a call today! 530-343-7917 x164 or fill out an adoption application online at
buttehumane.org/adopt-a-cat