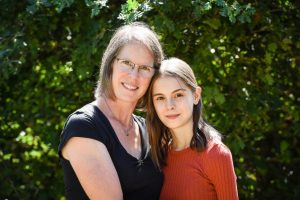 There is so much to be said about the dynamic mom and daughter duo Jess and Chloe A! They first began volunteering with BHS in 2017. Their love of cats brought them to begin their volunteer journey at Cat Adoptions. Seeing the need we had for help within our Warehouse assisting with dishes and laundry, they began volunteering there as well. Since then, Jess has become one of our Mentors at Cats, and also helps lead Shadow Shifts within that department.
Chloe's long term goal is to become a veterinarian. Jess saw that passion and, as her mother, wanted to encourage that passion. She wanted to help her daughters learn how rewarding volunteering can be. Chloe has taken that lesson, and quickly became our most active and reliable Junior Volunteer.
Their favorite part of volunteering is spending time with the cats. They enjoy getting to know each one's unique personality and help support them through their adoption journey. They know the best part is seeing a once shy, aggressive cat blossom and find their forever home. Due to the time and patience spent with each cat, Jess and Chloe are an extremely valued part of our volunteer team. They can be relied upon to truly get to know and understand each cat's needs,and work with them individually to allow them to become the best version of themselves within the shelter. This makes their transition into the forever home as smooth as possible.
When they aren't volunteering at BHS, they enjoy spending time with their two cats Tigerlily, a spunky 8 year old Torbie, and Amber, a shy Tortoiseshell. They also have 3 chickens and two ducks that are full of personality!
For fun Chloe enjoys running long distance, which she excels at, cooking for the family, and learning. Jess enjoys long phone calls, hiking, and reading as well. As a family, they enjoy camping adventures and playing board games. 
Jess and Chloe have truly helped our Cat Adoption Center become better, and they are always happy to help where needed. It is an honor to have them as a part of our volunteer team.