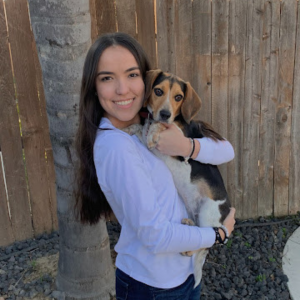 Gisselle started volunteering with Butte Humane Society in November of 2021.In that short amount of time, she has become a staple volunteer, dedicating her time to our Veterinary Clinic and as a much needed Greeter at the front desk. She has also helped us with fundraising events. In her time with us, she has already earned 95 hours of volunteer time! We look forward to having Gisselle with us for years to come. 
---
Why did you get involved with volunteering at BHS? 
As a pre-nursing student at CSU Chico, volunteer hours look amazing on the actual application to the nursing program. With that said, once I moved to Chico I knew I wanted to volunteer at a place that allowed me to work with animals. I'm beyond grateful to have been recommended BHS by my student mentor. I hope to volunteer for many years to come!
What is your favorite part of volunteering at BHS? 
My favorite part about volunteering is knowing I am making a positive impact at BHS whether it's answering calls, helping the clinic staff members, or walking a doggie! I have a true love for animals and being able to express that is amazing! I also enjoy being surrounded by such amazing staff members who genuinely and wholeheartedly care about the animals and helping them find the perfect home.
What is your favorite area to volunteer in?
My favorite area to volunteer in is behind the desk as a greeter. I enjoy answering calls and helping people learn about BHS and the services offered. I also get to see animals being adopted to their new homes, it absolutely warms my heart!
Do you have any animals of your own?
I have a labrador retriever named Simba and a cat named Cookie! Fun fact, my family adopted Cookie from a local animal shelter!