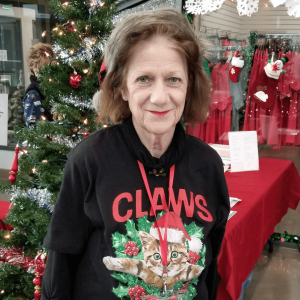 Sue has been a volunteer with Butte Humane Society since January of 2011. Previous to that, she volunteered at shelters down in San Diego starting in the 90's. She has volunteered through numerous moves, and has been able to watch us grow in her 11 years of volunteering. 
Sue volunteers in many areas of our organization. You can find her on weekends socializing our cats, helping with dishes and laundry, and lending a hand wherever needed. She is especially gifted when it comes to socializing our shy and scared cats, giving them an opportunity to start to blossom so they are ready when they go to their forever homes. During the week, you can find Sue volunteering as our greeter. Throughout the year, she helps at every event we hold. 
Sue is a core volunteer that we can always count on. With over 1100 hours dedicated to BHS, we are incredibly grateful to her and her service to our animals and organization.
Thank you Sue!
---
What has surprised you most about working with shelter animals?
I specialize in socializing the senior, shy and scaredy cats and have certification in behavior and emotional issues. It is rewarding to see these cats turn around and trust people in order to find their forever homes.
What has been your most impactful moment volunteering here?
I was thrilled to win the Butte "Humane-itarian" award for 2015 at the annual gala for my volunteer work at the cat shelter and for events.
What made you want to start volunteering?
My interest in cats came later in life after being around dogs, horses and livestock. After adopting and rescuing a kitten and an older cat, I became a true cat lover and wanted to help as many homeless ones as possible.
What is your favorite part about volunteering?
I love all aspects of cat care (socializing as well as doing laundry, dishes and litter boxes). I feel if you love cats, you also need to see to their needs and welfare.