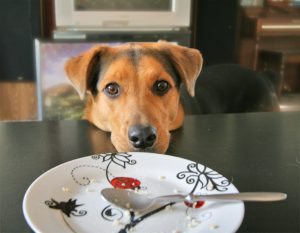 The trick with annoying behaviors is to train and reward an opposite or competing behavior. Whatever bothersome behavior the dog is engaging in, think of something that would preclude it, and train that behavior consistently.
Patience and consistency are always key in behavioral training. It can take a while for the dog to give up strategies that have worked for him consistently, but if he is no longer rewarded for them and is instead consistently reinforced for an alternative behavior, he will soon choose that new response every time.
Here's some additional quick tips for training alternate behaviors:
To replace door dashing, train to sit or down before opening the door.
To replace eating trash off the ground, train to carry a toy or keep eye contact with you.
To replace barking at the doorbell, train to get a toy.
To replace digging up the roses, train to fetch or hide-and-seek with dog toys.
To replace pawing at you, train to put pawing on a cue – so he uses his paw for a "high five" or "wave" when asked.
Happy training, pet owners!