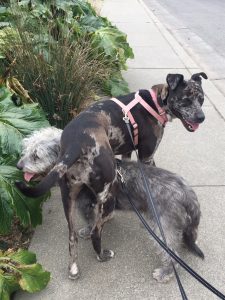 Written by loving adopters, Kristin & John W.
"We had been looking for a dog to complete our home for quite some time. It was originally only going to be one dog. We wanted to make sure they'd be a good fit for us. I had been interested in Link and Navi for awhile but it was convincing my boyfriend that two dogs were the right choice.
One day after work he had come home and asked me about the pair. I explained that two would be great because they'd love on each other and keep each other company. It was then he told me he went to Butte Humane to meet them and said they were the sweetest and coolest dogs he'd met so far.
The next day I went and adopted Link and Navi.
When we first brought them to the house, they immediately made themselves at home on our couch. We felt like they had been waiting for us and that we had them all along. Link has been such a joy to have. He is always by our side and loves to play chase. Navi has been such a love bug and enjoys cuddling. Her favorite thing is still to play catch and run around. Both are so loyal to us and we feel so lucky to have them in our lives. They also love each other and there was no separating these two, we're so glad we didn't.
These two have been to the beach, in the snow, camping, hiking and on roadtrips all over the place. We love bringing them with us everywhere we go and giving them the best life we can.
We couldn't be happier with our choice to give them a forever home, our house is complete now and full of love."