Written by loving adopters, Roger B. & Krista F.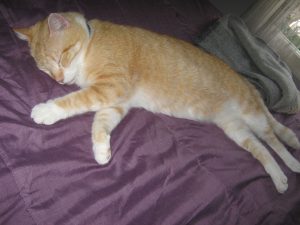 "Hello all –
Greg here. It is hard to believe, but our one year anniversary is upon us on April 1st. Thank you for your hospitality. I'm glad you found me my folks – they are good, they are as golden as my fur. I like it here and I am all settled in.
We recently got a new member to the family, her name is Miranda and she is full of energy. She likes to act tough around me, but I know she is really a softy so I just ignore her antics and she is coming around. I think that by the end of the year, we will be snuggle buddies.
I hope your good works are continuing well. Thank you for helping me find this home.
Best Wishes,
Greg"
---
"Hi friends –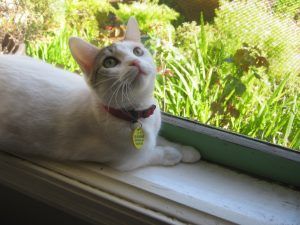 My new Mom and Dad are simply the best. Dad has a beard, which I find very interesting. I love to crawl in it and pat it. He is the best.
Oh, we have another cat here, his name is Greg. I have to tolerate him, he ignores me, but I feel like I have to growl at him at least a little. But, he is not really all bad, I just want Dad all to myself – oh but that would mean no Mom. I guess I just really like being the center of attention. Dad tells me stories and both Mom and Dad play lots of different games with me. they say I'm a natural mouser. I like to hear that.
Thank you for your hospitality earlier, I'm doing even better these days.
Yours Truly,
Miranda"