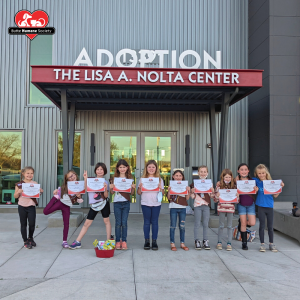 Snuggle up for story time! 📖 BHS is getting ready to read and relax with cats! We're getting eager to turn the page towards an exciting new chapter in BHS history! This new program won't be "fully published" until later this spring (April) – so keep an eye out for future updates!
To earn their pet badges Girl Scout troop 70036 brought in their favorite books to read to shelter cats! They read to both of our free roam cat colonies and our kenneled cat rooms.
Reading out loud to shelter cats gives a whole new spin on cat socialization. Not only does reading aloud provide unique enrichment for cats, it also improves a child's literacy skills – judgment free!
Cats are happy to listen to young readers' ears perked, and the kids get to enjoy a fun reading experience.
---