Try this step-by-step guide to build your dog an agility ramp to let out his energy and get good exercise!
Tools and materials: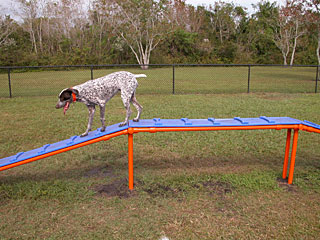 4×8′ sheets of plywood
table saw or circular saw
2x4s
nail gun
wooden rungs
galvanized nails
house paint
sand
eye rings
chain
Steps:
Build the A-frame climbing wall. Use a table saw or circular saw to cut two 4′ x 8′ sheets of plywood down to 3′ x 8′. To make the plywood pieces rigid, attach 2x4s around the perimeter and one lengthwise down the middle of each piece. Attach the 2x4s with a pneumatic nail gun through the face of the plywood.
Add wooden rungs to the wall. Wooden rungs will aid your dog's traction as he climbs the A-frame. Starting from the bottom, mark lines every 12 inches across the width of the plywood. Cut 1×4 lumber 35 inches long for each rung. Center each rung horizontally along your lines; you should have a 1/2″ reveal on each side of the rung. Attach the rungs with wood glue and 1-1/2″ galvanized nails.
Paint the A-frame wall. Apply two coats of standard, exterior house paint. Mix the paint with sand to add traction to the walls. Having two different colors on each side of the A- frame is recommended so your dog can get a clear picture of the obstacle.
Finish the A-frame wall.Use 3-inch hinges at the top and to attach the two sides of the A-frame.
Attach eye-rings about midway down on each side of the wall (on the 2×4). Attach a chain through the eye-rings so you can adjust the height of the wall.