It's no secret that stray and community cats can easily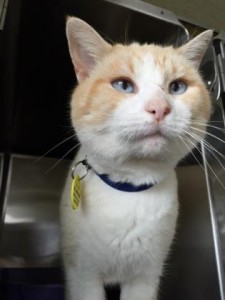 find themselves dealing with such medical issues as disease, infection, parasites, injuries, and more.  As with all male cats that come through our doors, Meatloaf had his turn on the operating table to get neutered. But something was not routine about his turn.
The vet noticed his vitals dropping.  Meatloaf was dying.  Thanks the vet's quick thinking, she was able keep him alive.  She was able to determine that he had a blocked bladder; one of the fastest ways for a male cat to die.  Had BHS not had a veterinarian on staff, he most certainly would have.  But because of the wonderful support of our community, Meatloaf, and countless other animals, are able to receive the medical care they need.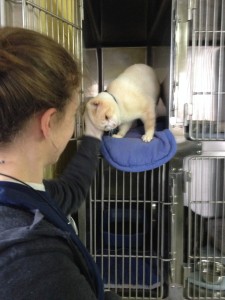 After a lengthy recovery, Meatloaf is ready for adoption. BHS staff practically swoon when his name is mentioned, with each one of them describing him as "sweet" and "cuddly".  "He'll touch his nose to yours if you get close enough to his kennel door," says adoption counselor Stephanie G.  It's unanimous, Meatloaf would make a great pet.  And now, thanks to the generosity of the community, he'll have a second chance to be one.