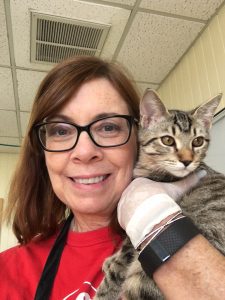 Sue has been dedicating her time to Butte Humane Society since May of 2009. She is our resident cat photographer and has almost 2,400 hours of service! Sue is an active figure in Chico. She works as the assistant Vice President for Alumni and Parent Engagement at CSU Chico, and is on several boards like the Stansbury Home and DCBA and volunteer photography services for Chico Theater Company.
Sue first began volunteering when Butte Humane Society was involved in the ZooToo campaign. The enthusiasm of BHS staff members encouraged Sue to try out volunteering, something she had not really done before. At first, she was not sure what she wanted to do at the shelter, but after she did a photoshoot for the cats Sue was hooked. The Shelter Art Foundation, which provides advice and training for how to take quality photos of shelter animals, helped Sue improve her photography skills and learn how to capture each cat's individual personality. On top of her regular visits to the BHS catteries, Sue does special event photography such as Pet Photos with Santa and Christmas Preview.
It is easy to see Sue is a cat person from her dedication here, but she does admit she would not mind having a dog sometime in the future. Roughly 700+ animals are photographed by Sue annually, so it is difficult for her to choose a favorite. Some have stood out to her, like BHS alumni Rocky, Thora, Honeysuckle, and Sophie. Several BHS cats have made a deeper connection with Sue and have found a furrever home with her. Currently, Sue is parent to five cats, and has adopted four cats she fostered in the past. She understands how much difference a comfortable bed can make, so she makes cat cage pads and dog coats in her spare time.
Without hesitation, Sue says the best part about volunteering at BHS is seeing the homeless pets find their forever homes and become part of the family. By taking professional photos of BHS animals, Sue can capture their personalities and show them to the public. Hearing someone say they came to see a specific animal because of Sue's photography really makes her feel like her work is helping the animals find great homes. She is a very active volunteer at BHS, working with animals, staff, and other volunteers. BHS is grateful to have her here.