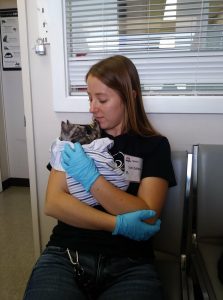 Sami has been volunteering with BHS since May of 2018. Since then she's put in a lot of hours with our cats and kittens, enriching their lives and giving them love and care. Sami loves talking to the public and answering any questions they may have. When the adoptions office gets busy,  staff knows they can rely on her for help. Because of her amazing volunteer work, Sami was recently promoted to Cat Mentor so she can share her passion with others!
Do you have any animals of your own?
"I have a 6 year old cat of my own, Minnie, a super cuddly black kitty! She doesn't live with me currently, but one of my roommates has two black cats as well. A 20 year old named Jag, and a kitten named Duchess that we adopted from BHS!"
What do you like to do in your free time?
"When I'm not in class, or working at ULTA, I use up most of my time volunteering for BHS and Vitalant(formerly Bloodsource). I'm a fourth year at Chico State, double majoring in Nursing and Child Development."
What made you want to volunteer?
"I originally decided to volunteer at BHS to fulfill volunteer hours and get extra points for the nursing program at Chico. After I finished the required hours, I didn't want to leave! I come in to see the kitties every time I have a few free hours."
What do you like most about being a cat mentor?
"I love being the person other volunteers can go to for help. I'm always happy to suggest a cat who needs attention, or find other ways to help out in the catteries. All volunteers are welcome to contact me anytime with questions about working in cat adoptions!"
Thank you for all that you do, Sami. We're so lucky to have you on the BHS team!