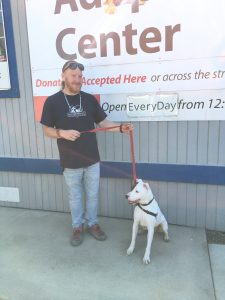 Rusty came to BHS right when we needed him. He helped out during Bidwell Bark from start to finish, and since then has spent many hours at Butte Humane Society, helping with the Pet Food Pantry, walking dogs, and providing them with much needed socialization. 
Recently Rusty drove our long term resident Shane all the way to Miranda's Rescue, a sanctuary located in Fortuna, CA. Thanks to Rusty, Shane will be in a place to receive training and a chance at his forever home.
Shannon, our dog behaviorist had this to say:
"Rusty has volunteered at all of our locations and made a strong impact with the animals and the staff. BHS has endured a lot of change over the past 9 months and many of our volunteers have stayed right by our side during these changes. Rusty has gone above and beyond to help the clinic and cat adoptions move from Country drive half way across town to Longfellow Ave. Rusty spends true quality time with our dogs, giving them access to a calm and comfortable environment, in such a chaotic space. We appreciate him so much here at dogs. Rusty is very kind and generous, we all are so grateful to have him as a volunteer at BHS." 
We are so lucky to have Rusty here, he is a kind hearted human being who gives his whole heart to our organization and animals.
Thank you, Rusty!