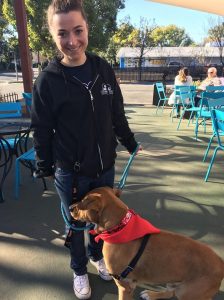 This month, we're shining the Volunteer Spotlight on Nicole M.!
Our Dog Intake Coordinator, Shannon, had nothing but wonderful things to say about Nicole. "She's always smiling, and she's willing to work on value life skills with Hudson – skills like being calm, walking politely on leash, how to sit and stay. Nicole is accountable and friendly!"
When asked about volunteering at BHS, Nicole said: "I absolutely love spending time volunteering with the dogs. I initially started because I missed having a dog of my own, and can't have one due to being a renter. I figured I would give my time, as I am a big supporter of rescues, after our family adopted a pittie through a rescue. I was able to get my dog 'fix' while being able to give back to the community and the pups. I love that I get to spend time with them, and work with them to get them out of the kennel and have some fun. While I also enjoy it personally, and feel so rewarded after spending each time with the pups and they always put a smile on my face."
We are so lucky to have an amazing volunteer like her. We appreciate you, Nicole!