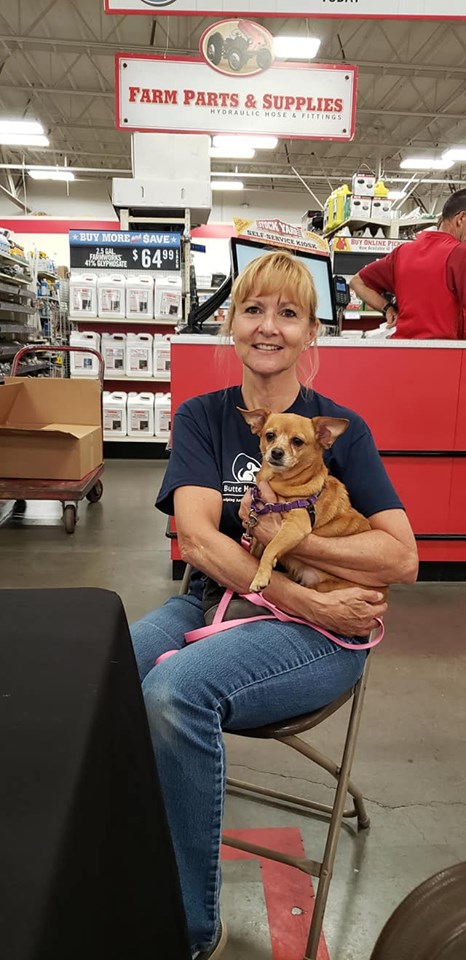 Melinda H. began volunteering with BHS just over 6 months ago, and in that time she's become a weekly regular at Dog Adoptions, walking dogs and taking them for Dog on the Go to get a much-needed break. She also helps out at Cat Adoptions and Warehouse each month, helping us stay on top of all our laundry and dishes! She's become an indispensable part of our team, reliably contributing in numerous ways. 
Melinda says "BHS has been perfect for me.  I love the flexible hours and being able to help with the dogs, cats and warehouse, and getting to occasionally bring home a dog for a few hours with D.O.G.
I am so impressed with how caring the staff is and how hard everyone works, especially in such tight quarters.  It is fun to see the dogs kind of blossom after being at BHS for a bit, and go from being afraid to happy. The best part is when they find a home."  
As BHS staff Shannon says, "Melinda always comes in with a smile on her face! She has such a gentle presence around the dogs and really brings a tranquil experience to their time here. Melinda has participated in Dog on the Go several times with a few of our smaller dogs. She definitely has a soft spot for the senior dogs and loves spending time with them. 
Melinda is always looking out for the best interest of our canines and continues to contribute love and compassion to their lives. It's always great to see her and chat about who she walked and spent time with or how her D.O.G experiences were, which are always positive. It's a privilege to have her as a volunteer here at BHS."