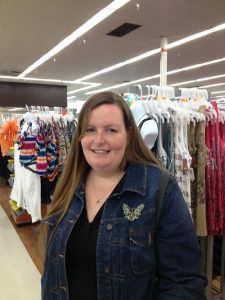 Kandi Has been a volunteer at BHS for over a year, and since then has taken her natural talent for helping others to her position as a warehouse mentor. Kandi is always willing to lend a hand, especially in the administrative office. She helps in so many different ways and always goes above and beyond, all while keeping a smile on her face. Admin staff love having her and her cheerful personality around!
What made you want to start volunteering?
For years Cale and I would go sit in the cat room after yard sailing on Saturdays and give love till our eyes were red from allergies. We came in so often they even let us back to play with the puppies one time. If I had know Veterinary Nurse was an option, I most likely would have been a doggy nurse instead of an LVN. I have wanted to volunteer for years but worried I had too many health issues to do a good job. Finally I decided to give it a try, and I'm glad I did because I love it!
What's your favorite area to volunteer in?
I love volunteering in the warehouse because I know I am making a difference for the cats and the staff in the surgery. Joline was my mentor for my first shadow shift and again for my mentor shift. She spent another couple shifts volunteering with me to help me get the hang of how to fold stuff so it would fit properly in the limited space. I quickly found out all of the mentors and staff had the same awesome helpful spirit.
What do you like to do for fun?  
For fun I like to nerd out with my hubby and binge watch documentaries and sci-fi tv shows (True Browncoat here…).  I also like to scrapbook, paint and papercraft while we watch..
Do you have any hidden talents? (for example: being a dog psychic!)
I've always been  able to communicate with animals, I'm glad to be able to put it to use! I also love making realistic crepe paper flowers and other decorations for friends and family's wedding.