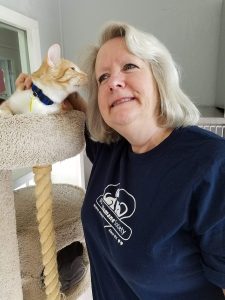 Janie has been volunteering at Butte Humane Society in the catteries since May of this year. Although she has only been with us for five months she is almost at 100 hours and has already been running Cat Shadow Shifts as well as helping out at our Mobile Adoption events! Originally from New Jersey, Janie moved to Chico in 2002 and continued her career as a nurse at Enloe. Although she claims no pizza, soft pretzels, or cheesesteak sandwiches here can compare to the East Coast's, she did admit Celestino's downtown is very close in quality.
Janie retired after working as a nurse for 40 years early this year and decided to start volunteering at BHS in the catteries. More recently, she has started acting as a mentor/leader for cat shadow shifts. Adult cats are often passed over in shelters for kittens, so Janie tries to really talk with potential adopters about what they are looking for in a cat to steer them toward adopting older cats. They deserve love too!
Janie recently just adopted one of BHS's cats, Theodore, who has been settling into his new life with two feline sisters and a canine brother. The most rewarding part of volunteering, for her, is making connections with the cats, especially the shy cats who need a little extra love to come out of their shells. Her grandson, Elyjah, is a current Junior Volunteer at BHS. Janie brought him into the catteries over the summer to see if he would be interested in volunteering. Elyjah was immediately hooked and has been volunteering with Janie as well. Being able to have her grandson volunteer with her has been a great bonding experience between the two.
Janie K. loves to be able to help the staff out and help find furrever homes for each cat.