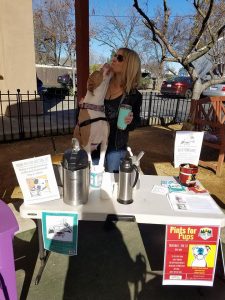 After knowing about BHS for 20+ years, Jaime decided to start volunteering with us this past summer and we couldn't be happier about it! Due to some back injuries, she was in a state of immobility which actually sparked her interested in volunteering. It was hard for her to go from her active lifestyle to being stuck on the couch, so in order to start feeling like herself again, she decided to do something for others. She slowly was able to start taking dogs on longer walks and believes it helped the healing process begin. Since starting here, Jaime has been doing a lot of work both on and off site.
Now that she is feeling better, she is preparing to venture out far and wide to inspire others to donate and adopt by showing them the best side of having a rescue dog. She became inspired after watching sad and negative commercials and realizing this is not a fair portrayal of what shelter dogs are really like. Accompanied by our beloved Nutmeg, she will be traveling across the country, stopping at dog friendly destinations hoping to get her message out there and bring more attention to the matter. Jaime has been doing a lot of work outside of the shelter in order to prepare for her trip including researching destinations, reaching out to dog shelters and rescue facilities, setting up events and interacting with other advocates. Oh, and turning her truck into a tiny house!
We wish you the best of luck Jaime, and thank you for all the hard work you are doing!
Hurry down to Secret Trail Brewery today (02/01/18) between 3:00pm and 6:00pm where $1 of every pint purchased goes toward Jaime and Nutmeg's adventure fund.