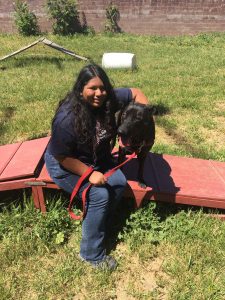 Our latest Volunteer of the Month is the amazing Emerald T!
Emerald stumbled upon the Butte Humane Society a few years ago when she was looking for a non-profit to do a school research project on, and as soon as she read into our mission and values, she knew she had to become a part of it. Ever since then, she has been doing incredible work with all of our dogs and we couldn't be more grateful.
Emerald is a Level 2 Volunteer and a Volunteer Mentor, as well as a trained Adoptions Counselor.  This means that at Mobile Adoption events, she knows how to look for a good match and is then able to process the adoption off-site. On top of being a Mentor and providing new volunteers with one-on-one guidance as they begin their hours, she even helps staff by often leading the Shadow Shift volunteer training sessions. To sum it up, she does it all!
According to Emerald, the best part about volunteering is all the great people she gets to meet. Even though the volunteers' lives may be so different, they all have a common interest: the animals. She comes whenever she is able to, and we can usually expect to see her several days per week. She works with some of our tougher cases and long-term dogs, pairing them in play groups and tandem walks together with fellow volunteers.
Emerald is a great asset to BHS and we don't know what we'll do without her during the summer. Enjoy summer vacation, but come back soon! Thanks for everything you do, Emerald.