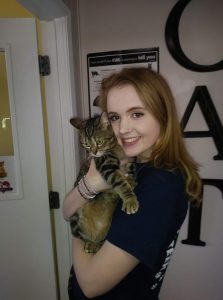 Not many volunteers feel comfortable with the complicated closing routines of feeding, cleaning, and administering medications, but Brooke T. sticks around until the last minute of the work day, working alongside staff to get the kitties ready for bed.
Brooke isn't timid about going above and beyond normal volunteer tasks, but rather looks for more "extracurricular" activities. She gives life to the office with the little things like creating birthday graphics for some of our special cats. She helps instigate those little shenanigans that a workplace needs to keep spirits up on those emotionally stressful days that are all too common in the shelter world.
Thank you Brooke, for bringing such joy to the cats and the humans who care for them.