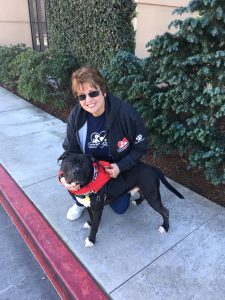 What can we say, Arlene is a rock star! In the last year she has contributed almost 250 hours of her time to Butte Humane Society. After being retired for about a year she decided to find a new way to spend her time, and we couldn't be luckier that she found us.
Adoptions Manager, Megan Dallas, says, "Our staff really rely on our volunteers, and Arlene is always there to step up and take on anything we need her to. If she hears we are short staffed, she comes straight over to come and help out. She's an angel!"
Arlene has completed the Level 2 training for dogs and is also one of our Volunteer Mentors, which means that she works with new volunteers as they are training. She is a great asset to our special events and mobile adoptions, including our most recent – a special "Company Cuddle" event for Sierra Nevada Brewery staff and families. Arlene also played a vital role during the evacuation crisis we had earlier this month, helping to organize emergency fosters so that we were able to open our kennels to community animals in need.
Now that we've gotten to know her, we don't know what we'd do without her. Thank you, Arlene!