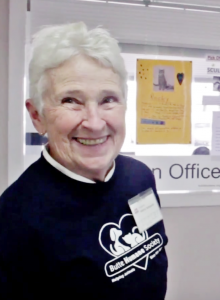 Our volunteers are the life blood of our humane work here at BHS, and we'd like to take time to recognize those who go above and beyond to make sure our furry animals are loved and comfortable.
One such individual is Marty S., who has been with us for five years and has selflessly donated nearly 800 hours of her time; most of which is spent doing laundry and dishes. She also spends quite a bit of time walking the fat cats on harnesses and socializing the stubborn, cranky cats. She's a retired school teacher who travels the US to play her fife in Civil War reenactments and other events.
Watch our video appreciation of Marty on Vimeo!
To become a volunteer like Marty, fill out an application HERE.