Thank you for your interest in Butte Humane Society's Animal Assisted Wellness Program. We are currently looking for friendly, compassionate, reliable people, with friendly, well-mannered pets that would like to
work
make a difference in our community.
*Please note that we have temporarily paused the AAW program.  If you are an interested party, please sign up for updates and we will inform you when we are able to safely resume this program.
Requirements:
You:
Must be 18 or older (or 12 years old with an adult)

Must own or have access to a friendly well mannered animal
Your Pet:
Must be up to date on required vaccines

Must pass a health screening and temperament evaluation

All dogs and cats must be spayed/neutered

Does NOT have to be adopted from the BHS shelter.
Species Accepted into the Program:
Dogs

Cats

Mini horses

Donkeys

Pigs

Rabbits

Guinea pigs

Rats

Birds
Required Capabilities:
Your dog will need to be able to demonstrate that he knows the following commands:

Sit

Down

Stay

Leave It

Walk Nicely on a Leash

Come or Here

Touch or Say Hi
Other animals will need to be able to demonstrate that they can walk or be carried calmly.
All animals

will need to show that they enjoy visiting with strangers, be ok with medical equipment, and complete an evaluation simulating a real-life visit.
Where you go on visits: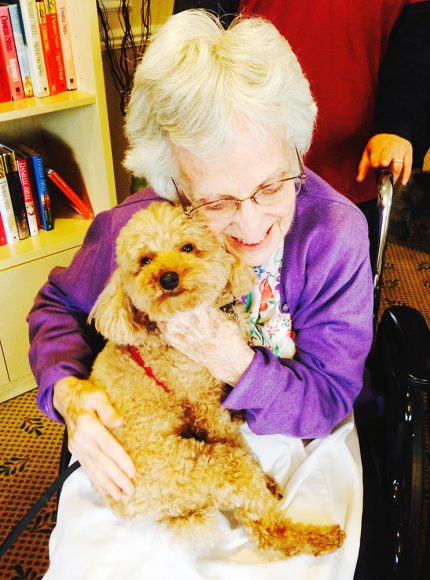 We currently visit a number of nursing homes and assisted living facilities throughout the Chico area as well as work with Butte County Library's StoryTime Tutors and Meriam Library'smonthly Student De-Stress sessions.
We are currently coordinating visits to the following facilities:

Amber Grove

Country House

Windchime

The Terraces

Courtyard at Little Chico Creek

Townsend House

Riverside Convalescent

Chico Terraces

Chico Library Story Tale Tutors
What you should consider:
Animal Assisted Wellness offers numerous benefits. It is a great way to spend time with and bond with your animal. It is also rewarding to know that you are brightening someone's day. However, it is important to take into consideration that being involved with AAW is a commitment. When visiting, your animal must:

Be healthy

Be clean and groomed

Have smooth trimmed nails

Be up to date on vaccinations

Be parasite and flea-free
You will be asked to purchase a "Paws for People" t-shirt, bandana, and badge so are easily identified.
If you do not feel as though you have the resources to participate in AAW, there are numerous ways to volunteer at BHS!  
To get started in the animal assisted wellness program, please follow these steps:
Please contact cad@buttehumane.org if you are interested in joining this program.
To become an animal assisted wellness advocate for BHS, you will be required to:
Complete and submit an online questionnaire.
Attend an interview and Basic Skills and Temperament Assessment with your pet. You will receive the AAW Volunteer Manual and Quiz when your pet successfully completes the assessment.
Read the AAW Volunteer Manual and take the quiz. Once you have completed the quiz, you will be scheduled to attend a shadow visit.
Shadow the AAW Coordinator or seasoned volunteer team on a visit to a facility (this cane be done more than once.) You can then schedule your Visit Simulation Assessment when you are ready.
After successfully passing the VS Assessment, you will be asked to pay the $30 enrollment fee to cover the Paws for People t-shirt, bandana, and badge. At this time, you should also contact your veterinarian so they can complete your Health Certificate. If you do not have a primary veterinarian, the Butte Humane Society Clinic does offer wellness exams.
Schedule your Observed Visit with the AAW Coordinator. Once you have completed the visit, you will receive your Welcome Letter and Volgistics credentials to sign up for AAW volunteer opportunities!
---