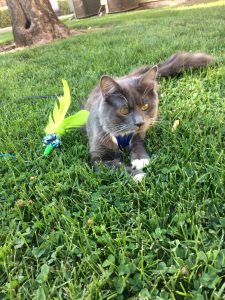 Written by loving adopter, Sabrina B.
Being a volunteer, I remember when Tito was still in a kennel, and then became free-roaming in cattery 2. I had been wanting a kitty for some time, and the day we decided it was time to bring a kid with whiskers home, my partner and I visited BHS. We found Tito where he was lounging atop of a cat tree in cattery 2, and he let out a long, paw-flexing stretch and let me touch his belly. Yet each individual kitty was so sweet, so I got on the floor and played with all of them for awhile. I loved Tito's playfulness particularly; and it seemed like he'd be a perfect napping buddy that still also had plenty of energy, which is exactly what we were hoping for. My partner also fell in love with Tito's unique, almost dog-like personality, so I came back the next day to make things official! The adoption process was a breeze thanks to Shelby, she was very helpful.
Tito is the perfect fur child, he makes us proud and his personality is the best addition to our family we could've hoped for. He and I have become inseparable. He has stayed true to his dog-like qualities: he does rather well in his harness when we go outside to chase bugs and people-watch, he is a faithful and delightfully talkative shadow, and he also gives any new guest in our home a warm welcome and an invitation to play! But he's not too shabby at being an amazing kitty either: he is a solid napping companion, he is a diligent morning cuddler before breakfast, he pokes his nose up at you for kisses, and most importantly he is the king of our little castle as well as our hearts. I just can't imagine life without Tito in it and I'm so thankful we found each other!! We are excited to celebrate his first birthday next month. Here's to Tito! We love you!