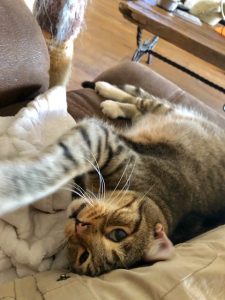 Written by loving adopter, Jeanne C.
I knew Marco was meant to be in our family.  After losing my 20-year-old Tiger a few months ago I was ready to honor him by giving a home to another shelter cat. I looked online at Butte Humane Society to find the oldest cat they had, since it seems the youngest go first and it was Marco at nine years! The strange thing was he looked EXACTLY like Tiger! It seemed too strange to me so I waited about three weeks and then looked again to see if he was still there, and when he was I knew!
Marco, as promised by staff that knew him well, is super friendly and loving. He follows me around and cuddles on the chair with me. He's fearless with my other pets and makes it known he wants to be friendly by walking right up to them. He's not shy and if they hiss a bit he just backs off and goes and plays with his toys. He now has a sister, Amber and three brothers: Dolcetto, Muscato and SirAh. He also has a dog brother, Faustino, who also came to me from Butte Humane Society in 2009. He's now getting around the Vineyard with his friends but spends most of his time following me around and playing inside.