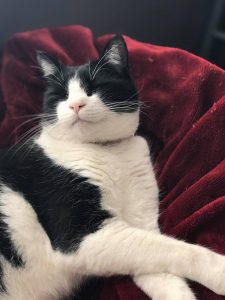 Written by Beth H-G., loving adopter
I knew he was the one on that Monday. I went into the room and he ran right up to me. I sat on that little white bench and he jumped up on my lap and really would not get down. I even took one of my lunch breaks and zipped out there, I believe a day or two later, and then on that final day when I went in again, he ran up to me like a dog from across the room and again he jumped up on my lap! The overall adoption process was professional and easy actually. When the adoption was becoming more final we were able to find out even more information about him and we were reassured that he was the cat for us.
We love that Ralph is independent and that even though
he was supposed to be our teenager's birthday gift, his favorite of the five of us is really our 16-year-old daughter. She can hold him like a baby, when given the choice he will gravitate toward her instead of myself or my husband or my other two kids. My husband loves playing with him and giving him scratches. He loves sleeping up on our bed and he loves cuddling in a soft blanket. We spoil him and every morning when he comes in, he jumps up on the kitchen counter and we give him a fresh glass of water! It's become quite a habit for him. Of course he has his own bowl of water next to his food but he would rather take the water that we give him at that moment.
We are really very fortunate to have Ralph in our lives!