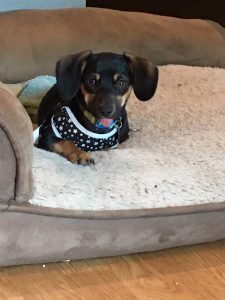 Written by loving adopter, Amy V.
My ten year old daughter, Lily, had been asking and asking if she could have a dog. Our response was always, "We don't need another dog." or "We don't need three dogs," to which she replied that we used to have three dogs, so that reason didn't really hold up! After asking continuously for months, we finally told her she could have a dog if she saved the money to get a dog. So, about a year later, she had the money! The entire time she was saving, she was searching the web for available dogs. Lily had it in her mind that she wanted to rescue a dog rather than buy one from a breeder.  She spent months visiting rescue websites and shelters in any town that we happen to be visiting. She had several heartbreaks as we arrived too late to adopt one she had her eye on, sometimes only minutes too late! Then she found Pippa…
The adoption process went amazingly well. My daughter found her picture on the website. She asked us if we could call and ask to meet her. Her dad called and set up an appointment to meet her, since she was in a foster home. We went to meet her a few days later, and I could tell that she would be a good match for our family, but my daughter was unsure. She wanted to be sure she wasn't rushing in to it just because she was cute. The shelter staff mentioned that we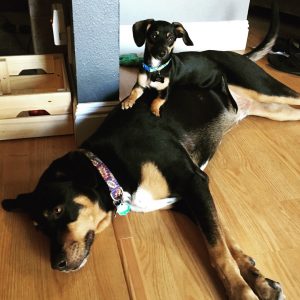 could put a hold on her and she could think about it overnight without having to worry about her being adopted by someone else. She was very grateful for that suggestion! We took the night to talk and sleep on it and she woke up the next morning knowing she was the one! We went back over to the shelter and the same two staff members who had helped us the day before were working. I wish I could remember their names, they were both fantastic! They were professional and made my daughter feel very comfortable and not pressured! They were very thorough and clear with all of the paperwork and information.
Lily decided to keep the name the shelter staff gave the dog, it fits her well! Her personality is playful, and she has a great temperament. She fits in with our family of 4 humans, and two other dogs very well! It's almost as if she were meant to be with our family. We also have a large extended dog family and Pippa gets along with all of them. We love how her tongue sticks out, most often when she is relaxed or asleep! Although, sometimes if she has done something naughty, she will look at you with her tongue out almost as if she knows how cute she is and to say, "I'm not a bad dog!!" Pippa is incredibly smart and she loves to snuggle up with Lily at night. Thank you so much for an amazing experience for our family!