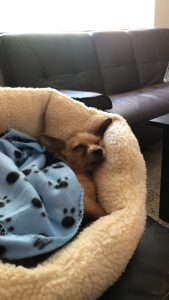 Written by loving adopter, Lauren B.
Patrick went from a shy, quiet dog to a lovable bundle of energy. The second I saw him I knew I had to adopt him. He is a very curious boy who loves to please people. He is always the center of attention and loves to be rewarded with treats and belly rubs! He always makes people laugh with the way he trots around the house. Patrick has many quirks about him; he hops instead of runs to fetch a toy, nibbles on toes, he likes to flip over pillows, plays with treats before eating them, and climbs all over people like his personal jungle gym. He is a great watch dog and likes to perch on the window sill and look out the window. Patrick enjoys chewing on bones for hours on end then napping. He knows the commands "sit" and "c'mon" very well. We thought he would need to be potty trained but we have not had a single accident! He loves to follow people around and is always right beside them.
   We have been working on socializing him since he can be weary and sometimes aggressive with people and dogs. He used to bark at people but lately he has been just fine meeting them. We had a problem with him acting aggressive with other dogs in the beginning but he seems to understand now they want to be friends just like he does! We have yet to take him to the dog park because of the heat, but once it cools down we will go every day!
   Butte Humane Society was very friendly throughout the whole adoption process. It took me a month to finally be able to adopt 
Patrick
 but the staff always followed up with me to be sure. They gave me everything I needed for his records and informed me on anything else I needed to know. Luckily 
Patrick
 is perfectly healthy, but the staff assured me anytime he needs a vet visit their clinic will take great care of him. 
Patrick
 continues to grow and learn everyday, and he loves the endless treats!