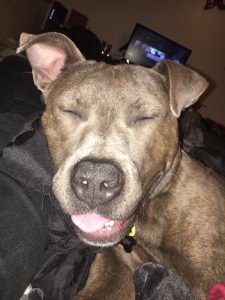 Written by loving adopter Megan H.
Hi, my name is Nova. Formerly known as Claire. A few months ago, I was adopted by my wonderful parents Megan and Alex and what can I say, it was the best decision they could have ever made. My humans have the best time taking me outside to smell all the things. Its my favorite activity. My other favorite activity is watching all the dogs play at the dog park. I would play with them, but I can get a little shy so I just sit on the bench with mom and watch. Sometimes I run to meet a new dog and smell all the new smells, but I mostly like hanging out with my parents and just watching all the other dogs have fun.
Oh! My other favorite activity is playing with all my aunts at home. They are quite clumsy and often lose their grip on the tennis ball, but it's okay. I love them enough to go pick it up for them. Silly humans. My other other favorite activity is cuddling with my parents. Their bed is so soft I can't help but spread out all the way and take it all up. They don't seem to mind though because I just have to give them my puppy dog eyes then they are putty in my paws. I have made so many new friends. Making new friends is my favorite. I love dog friends, human friends, cat friends, not so much squirrel friends but that's okay they don't seem to like me very much either. Overall, I love my new home and my family seems to love me just as much. I can't wait to find new favorite things.
Love, Nova (written by owner Megan H. because Nova does not have thumbs)