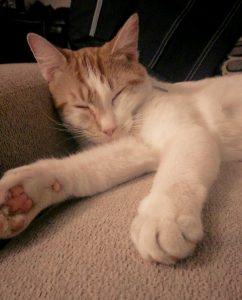 Written by loving adopter, Jennifer S.
I found Mr. Kitty wandering alone in my apartment complex. He was skinny, dirty and covered in fleas but extremely friendly and started purring the minute I picked him up. After asking around, it became apparent that someone had left him behind or dumped him here. My boyfriend and I had never owned a cat but we knew he needed some help. We would leave food and water outside our door and let him in when he came by.
We set up an appointment with Butte Humane to get him adopted into a permanent home. But when the time came to say goodbye, it was harder than we thought. We only lasted two days before going back to get him. I was surprised that he had already been neutered, vaccinated and tested by the vet staff. I immediately signed the paper work and made things official.
Now Mr. Kitty is adjusting to life as an indoor cat. He sleeps in between our heads at night and loves to be rocked like a baby. It is crazy to think someone could just abandon such a sweet boy but we feel so lucky to have him in our lives.
While Mr. Kitty was only there for two days, I am so thankful to the staff at Butte Humane for caring got him and getting him healthy again. Everyone was so nice and helpful.