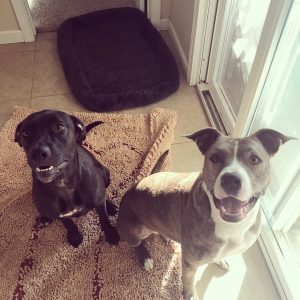 Written by loving adopter, Erin C.
Things are wonderful though. We kept the name Mocha. We also adopted Maya (previously Daia) from BHS a couple of years ago. We wanted to get Maya a companion as they are usually roaming the back yard while we are at work during the day. Maya and Mocha hit it off wonderfully! It's amazing. They have the same temperament and love to gnaw on each others legs and ears and wrestle.  They snuggle and play hard. Maya had to have surgery right after we adopted her and now she doesn't have a femur attached to her back hip but you would never know it. Mocha has been great for her to get exercise and be playful. They both have such sweet personalities. They both love to snuggle with each other and our family. Mocha loves to paw to get attention…it's pretty cute and a new characteristic we learned about her. We also found that they love going to the river. Mocha can jump super far and the kids love playing with her in the water. She was nervous at first but once she got used to it we couldn't get her out of the river or our pool!
We have 3 young boys (5,7,&10) and they love both the dogs. Mocha has found sleeping with the oldest is her favorite! They are both high energy dogs and we were a little concerned at first how they would get along because the initial meeting of them at BHS was not the greatest first impression. We went back with out Maya again and took our youngest son. The interaction was positive and we decided based on what we saw to give it a go. Maya and Mocha are best friends now and Maya has been teaching her good habits!