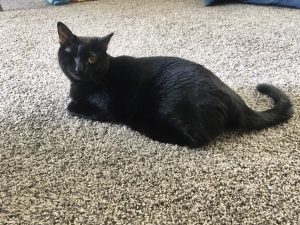 Written by loving adopters, the Geiger family
Maya allowed us to adopt her from BHS in the Fall of 2016.  We were only at BHS to "look" at the kitties, but my kids immediately fell in love with Maya.  After we spent just a few minutes with her we decided we couldn't leave without her. Maya came home to join our cat, Sunshine, and our basset hound, Bella.  She adapted and made friends quickly.
Maya is full of personality and has a great sense of humor.  Occasionally she will entertain us by chasing her tail, playing hide and seek or attempting acrobatics beyond her skill level.  She believes in positive reinforcement, and rewards us with nose kisses when we refill her food bowl.  Some of her other favorite past times include:  belly rubs, staring contests, squirrel watching, attacking legos, and plotting world domination.
Maya is definitely one of those cats that makes herself known and we are all happy to know her!