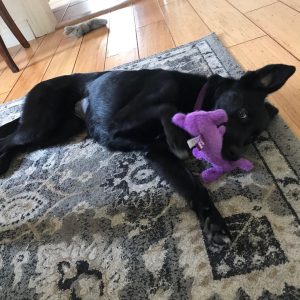 Leti (aka Callie) is a sweet, fun, and terrific addition to our household!  We had said goodbye to a wonderful Dalmatian just a couple weeks before we picked up Leti and were unsure how she would measure up. But now, we feel so lucky to have found her!
She is full of life, very social. She loves to show her belly and chase balls in the yard.  She also runs 10 miles a week and goes wild when we come home from work. We have taken her to the ocean which she seemed to find fascinating, although she got car-sick, but that's something we're working on.
We do not have kids or other pets, so the adjustment has gone smoothly.  She is gaining weight and her coat is improving!  We had a DNA test done, the results were: 50% border collie and 50% golden retriever but we question those results 🙂
We started training classes last week and the first day went well! We are confident she will be a fast learner. We thought the adoption process through Butte Humane was seamless and easy. Thank you for your hard work!