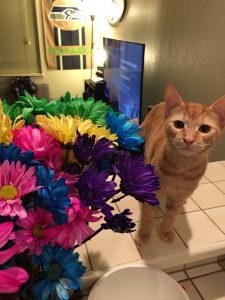 Written by loving adopter, Jordan S.
Everything has been going great! We changed his name to Finley and he is wonderful. We have another kitten, Chewy (used to be Rainier) we adopted from BHS as well who's the same age and they are best buds and play with each other all the time.
Finley is a little more nervous and skittish, but over the past month he has really started to come out of his shell and be more comfortable in his new home. He likes to hide under the bed or anywhere where he feels hidden, he especially loves the bathroom. He likes to growl whenever he has a toy like it's his kill, but he never attacks Chewy over toys. Of course that doesn't stop him from rough housing with Chewy and causing mischief around our apartment. When we first brought Finley home, Chewy was unsure at first but then they bonded and Chewy hardly ever leaves Finley alone. He loves his new brother. He also has the worlds loudest purr, we call him our little motorboat.
There haven't been many challenges with Finley, he's been a great cat! The only thing is Chewy showing him how to cause trouble by climbing all over everything in our home and making messes.