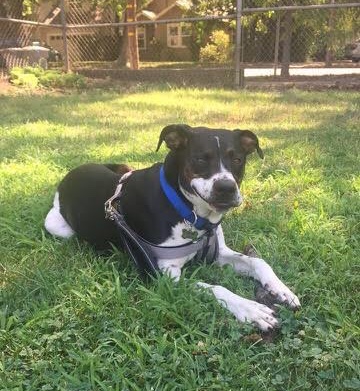 Written by loving adopter, Samantha B.
The adoption has been going AMAZING. It is by far the best thing Tyler and I have ever done. Duncan has become apart of the family since the first day we brought him home. We have kept the name assigned by the shelter because it just fits him so well! We knew the staff was sad to see him go, and now we understand why. He is such a great, intelligent and unique dog. He has stayed the same lovable pup, I think having him home with us has brought out the best in him. We could tell as soon as the first night we had him just how intelligent he is. He listened to us from the beginning and already knew sit and paw for a treat! He kept amazing us from then and still does every day. Duncan loves going on walks and sniffing EVERYTHING. But what he loves even more then sniffing is chasing cats and squirrels!
We have our roommates dog here for duck hunting season only, and at first it was a little aggressive between the two of them, but now they are the best of friends! More like brothers, the other dog has become very protective of Duncan and visa versa. They play together all day long in the backyard, and I know Duncan will be sad to see him go after the season is over.
We really haven't encountered any challenges with Duncan. He is so smart, all we have to do is tell him no once and he obeys. Sometimes he likes to test our boundaries, but he knows exactly what he's doing when he does it! Something very funny about him is he knows just how cute he is! When he wants something, he will give us the "puppy dog" eyes! It's the cutest thing ever.
The adoption process was smooth and the staff was great. I wish I remembered the name of the girl who helped us choose Duncan that day, she was fantastic and very helpful. We would do this again if we could!