In November this past year, my family and I were heartbroken to see the devastation caused by the Camp Fire. We watched the news reports daily and said many prayers for the people and animals who were losing so much. I was heartsick seeing the reports of the animals who were burned, scared, and without homes. I started following the different rescue organizations that were working tirelessly to save the animals from the Camp Fire. That is when I came across the picture of sweet CC 200, now known as Butte.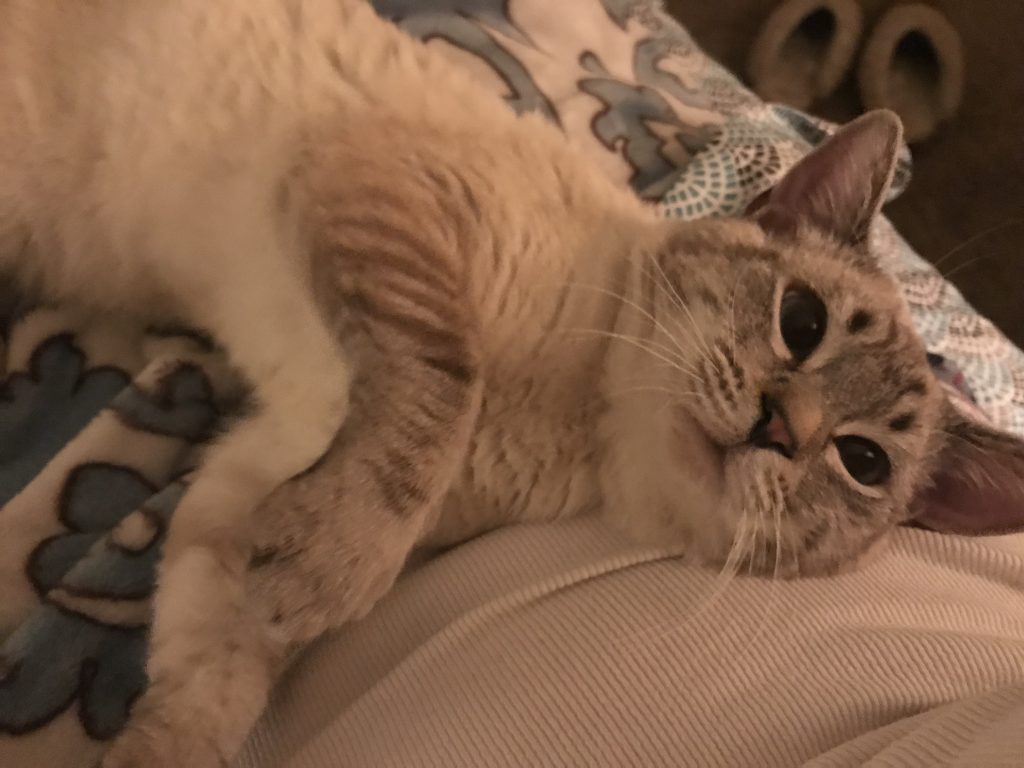 Scrolling through the pictures of hundreds of cats rescued from the fire was overwhelming. I did not know how I was going to choose just one cat. When I saw Butte's picture, I was shocked at how closely he resembled our cat that we lost this past March. He looks like he could be her twin. I instantly felt a connection with him. I was hopeful that he would be reunited with his family, but I also hoped that he would become part of our family. After checking on him through the Butte County Camp Fire Rescued Animals site for several weeks, I emailed Butte Humane Society to inquire about adopting Butte. On January 2, 2019 my application for Butte was accepted. We were informed that if he was not claimed by January 18, 2019 then we could come meet him and move forward with the adoption. On January 23, 2019 my husband and I made the hour and half drive from Woodland, CA to Butte Humane Society to meet our newest family member, Butte. We instantly fell in love.
Butte has been with us for about a week now and his transition home has been so easy. When we brought him home, the first thing he did was roll around on the carpet, purring the loudest purr I have ever heard from such a small kitty! Our sons, ages 10 and 5, adore Butte. Our 5-year-old asks every night if "Boot" can sleep in his bed. Butte lets our kids carry him around and he loves to lay in their laps while they watch TV. We have another kitty Butte's age, named Max, and they have started chasing each other around the house. While Max is almost twice Butte's size, Butte is the one who does the chasing and is quick to steal Max's toys right out from under his nose. Butte also loves our dog and showed no fear at all when he met her. They sleep together on our bed and Butte likes to clean the dog's ears. Butte is incredibly affectionate and loves to be cuddled. We are so lucky to have found him! Thank you to Butte Humane Society for helping us bring Butte home. We love our tiny cat so much. He is a great addition to our family.