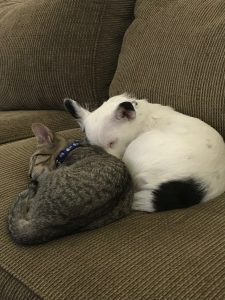 Written by loving adopter, Brennan
Our new kitty is doing fantastic! He adjusted to his new home super fast and is fitting in as a wonderful addition to our family.
We did change the spelling of his name, so he's Bo now. He doesn't seem to mind. We felt it lends itself to more punny nicknames. El-Bo, little Bo peep, Bo-tie, and so on. Personality-wise, he's very playful and rambunctious, but well behaved. He's discovering the he can jump higher and farther as he's growing, so we're keeping an eye on items that we need to move further out of reach or put away. He doesn't destroy anything though. He just wants to play with stuff.
We do have a small dog named Milkshake and they quickly took a liking to each other. They are the best of friends and really enjoy playing and snuggling. It's really too cute. We do keep them separated when we're not home, at least until he's big enough to defend himself better if needed. There's been no aggression from either one of them though, which is awesome.
We really haven't had any challenges. He used his litter box immediately and he's had a healthy appetite. He's personable with my partner and me, and any guests we have over. He plays and cuddles with the best of them. He does have a desire to eat the dog's food, so we have to put it out of his reach. He eats his own food just fine though too.
He's also not quite learned what bed time is, so we've been putting him in the walk-in closet at night so he doesn't attack our feet under the sheet. The closet is kind of his home base. Plenty of shelves for him to climb on. Soft piles of clothes and blankets to sleep. His litter box, food, and water also live in the closet so he always has access to those.
As far as the adoption process, you guys were fantastic. I've always loved butte humane, and will continue to support and recommend your organization forever. Thank you for all you do!