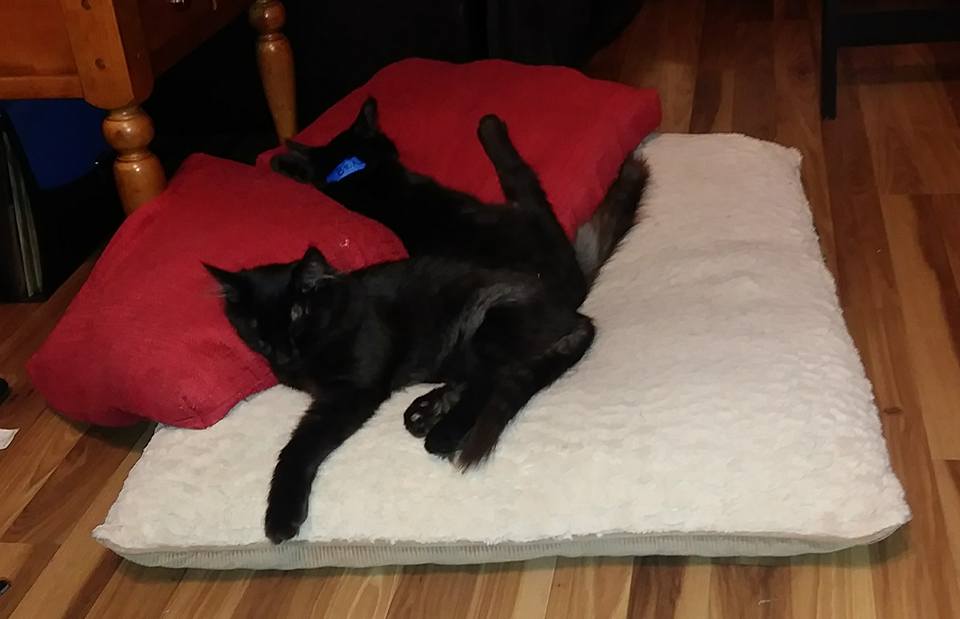 Written by adopter and BHS staff member, Mandy M.
I adopted Ben and Jerry on Oct 7, 2017. These sweet soot-black brothers entered the Butte Humane cat shelter on August 16th of 2017. Upon arrival, both boys had several medical issues and spent a few weeks in the sick room until they were well enough to join the other cats. I was an adoption counselor at Butte Humane Society at the time and was watching them closely. Many people loved to interact with them and pet them, but showed no interest in adopting these lovely boys. I'm not sure if it was the stigma that many associate with black cats or something else, but soon they began entering their teenage stage and no longer had that cute kitten look many adopters want.
Adopting Ben and Jerry was one of the best decisions I've ever made. These boys are very close with one another, and although they almost look completely identical, they have completely different personalities. Ben is a sensitive boy who follows me around the house and loves to cuddle with me at night. He also closely monitors my labrador Odin and grooms him from time to time. Jerry, on the other hand, thinks he is the king of the house! He will greet everyone that walks in, but will quickly become uninterested and move on to his own independent activities. Jerry's purr sounds like thunder, and they are both sweet as can be.
I couldn't imagine life without my furry family, and I feel so honored to have adopted from Butte Humane Society.