Hiking, swimming, and backpacking are just some of the things to do with your pets while on vacation. Bringing your pet along on Summer trips can be welcomed company or a headache if you don't plan ahead and travel properly. Follow these tips to prepare yourself and your animal before you embark this Summer.

An initial difficult decision with taking your animal on vacation is the travel. Sitting in a car or plane for hours on end can be very stressful to the animal, which in turn, can stress you out. Here are a few tips for making traveling with your pet easier:
Crating your pet while driving makes them feel more comfortable as this is a familiar environment to them.
Make sure you exercise pets before the trip, this way they will be more likely to rest or even sleep.
Bringing a favorite toy or item such as a blanket is also a good idea
Stick to your pet's regular meal and outdoor/bathroom times as best as possible.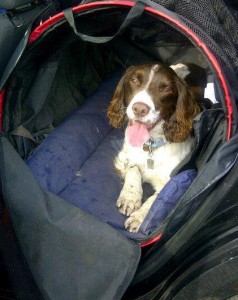 It's actually easier than you think to find pet-friendly accommodations for animals. Many hotels across the nation offer dog-friendly rooms with a small extra charge. Some of the top dog-friendly hotels are The Kimpton, The Loews, The Hilton, and Motel 6. So whatever your price range is finding a dog-friendly room is only a quick google search away. Another option is AirBnB. Stay anywhere in the world, meet new people, and usually there is minimal or no additional fees for bringing pets along!
Once you've got your animal a nice place to lay their head for the night, finding things to do with them should be easy. Dog Trekker is a great site for finding fun things to do with your pet. Did you know there are even some dog-friendly wine tasting and rafting experiences in Wine Country?
If you're having trouble finding a vacation spot, water is always likely to be a favorite in Summer. California's coast offers great exploration opportunities for both you and your pup. Just be sure to bring along plenty of drinking water and a towel for your dog. Remember, sand can get hot!
Need to find a travel companion for your pup? Check out our awesome adoptable dogs that would love to accompany you on your Summer vacation.
Article written by Nick Bragg, BHS PR Intern