Odin came to BHS a young man of only 95 pounds.  You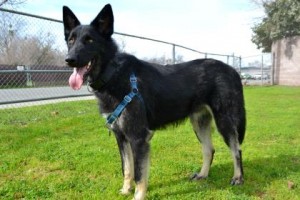 would think that such a handsome man would have no problem finding a home, but breed discriminating housing rules prevented several families from taking him home.  With the possibility of him being part wolf, in addition to his mere size, he was rejected by several property management agencies.
Because of this, a silver lining presented itself for David M. and Lindsey H. who fell in love with him at first sight.  " I decided to go (to Butte Humane Society) after work one day, after one walk around, a big black boy caught my eye," says Lindsey.  "A few days later he was part of our family."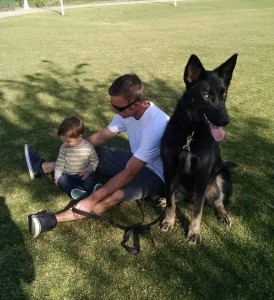 Odin was the perfect dog to fill the hole in their hearts after they lost their shepherd mix, Bear.  "What Odin doesn't know is that he rescued us!"  Lindsey continues. "He's happy as can be, has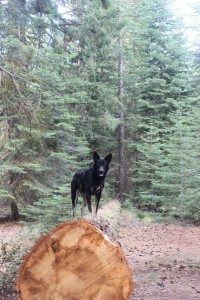 so much fun at the dog parks, and loves going camping! He's quite the lover, always wanting to cuddle and protect us!"
It would seem that Odin is just as happy that he is a part of the family as Lindsey and David are.  Thank you David and Lindsey, for welcoming Odin into your family.