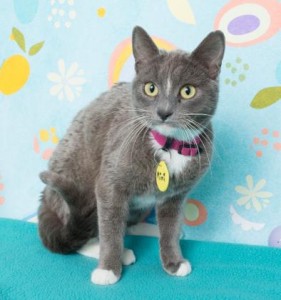 Despite being perhaps the least suited cat to be in a shelter setting, Mimi was one of our longest term residents here at BHS.  One-year-old Mimi came to us in May of 2015, was quickly adopted, then was returned just days later because of her shyness.
Months and months went by and people kept passing her up, misinterpreting her shyness for indifference.  She had the full force of BHS supporting her because we all knew how sweet she really was.  Volunteers told her story.  The Humane Heroes youth group made a video about her.  Interns promoted her on Facebook.  Then, finally, one day, she caught the eye of Nicole G. of Paradise.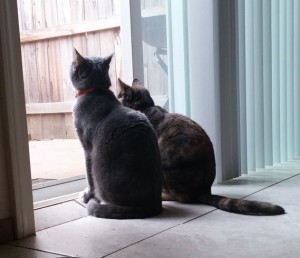 It was love at first sight, and it couldn't have been with anybody better.  Nicole understood that Mimi needed a little extra time to adjust to her new home.  That patience has paid off. Over a month later, Mimi is finally letting Nicole and her family pet her.  They've discovered that she prefers playing with pipe cleaners over ordinary cat toys, and that she loves cuddling up on the down comforter on the bed.  "She is pampered like a princess", Nicole says, "We love her".
Thank you Nicole, for seeing through Mimi's timidity and having the kind perseverance needed to make her feel truly loved in her new furrever home.