You're at that time in your life when you can finally add a furry new member to the family. Whatever your lifestyle, you must decide where to go to get your pet. Most people are usually faced with two options for choosing a new dog or cat: local animal shelters and stores/breeders. Choosing between the two can be a tough choice, but if you weigh out the pros and cons of each, the answer shouldn't surprise you. Right?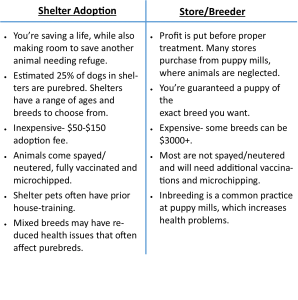 You might have to be patient to find that purebred Golden Retriever or Poodle puppy you've always wanted in a shelter, but the shelter is full of incredible, loving mutts who would be forever grateful for being rescued.
Adoption counsels work hard to ensure you find the perfect match for your lifestyle and family. But most importantly, by adopting from a shelter, you are not only saving the life of one animal, but many. Adopting an animal reduces the number of homeless animals and combats overpopulation through support of spay and neuter efforts.